Our Aurora Plumbers Serve Aurora and Beyond!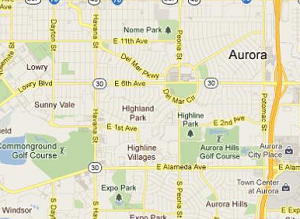 Do you need a good plumber in Aurora, CO? If you're in town, we'll arrive at your home or business within minutes and get to work. Our master plumbers are your first line of defense against all leaks, ruptures, clogs, and catastrophes, twenty four hours a day and seven days a week. No job is too big or too small for us to tackle.
But we don't stop with Aurora. Our plumbers can be found throughout the Denver area, and if we can't get to your area in time to solve your plumbing emergency, we can put you in touch with someone who can. Above and beyond all else, we want your plumbing problems solved because you need your plumbing problems solved. The biggest plumbing catastrophes can't afford to wait, and time is money. Just a few minutes with a ruptured pipe can cost thousands of dollars in property damage and costly repairs that could take months of contracting and invasive labor. Just a few minutes with a clogged toilet and your business's productivity can grind to a halt. We don't make appointments we can't keep, but sometimes your location is just too far for us to get there in the time you need.
But we're still the number to call. Our affiliate plumbers share our values, our workmanship, and our exceptional customer service, or we don't recommend them to anyone, period. No matter what, if you're located in the Denver area, or in Colorado at large, we can provide you the plumber you need to fix what ails your aging pipes. We work with some of the smartest plumbers on the planet, and after just one call to us you'll never have to call another number again.
So don't hesitate - if your pipes are crying out for care, we're practically already there. Call us for plumbing service in Aurora today.

Hot Water Heater Repairs in Aurora

A broken water heater can be one of the most irritating problems you can have with your plumbing system, but we'll be there in a flash to service an older unit or replace your water heater within minutes. We know every major brand of gas water heater, electric water heater, tankless water heater, and on demand water heater, so you have no reason to worry. Yes, our skilled Aurora plumbers repair water heaters, but an older water heater can easily become a money sink, and our plumbers can also help you research replacement models to save you money in the long run.
Call our Aurora plumbing professionals today for an estimate on a new hot water heater or replacement water heater.